This site is the "unofficial" site for Carpocalypse dedicated to the current TV show broadcast on Spike TV. This site is owned and brought to you by DJ BenJammin the "bus driver" from Season I and ll, and is created to help give some more information about the show with pictures and a way to give feedback about the show that the "Spike TV" website does not have. Brought to you by www.djbenjammin.com
---
OK Folks, the show is over, I know. It's sad. According to the Spike TV website, Carpocalypse doesn't have any more air dates so, I guess Spike officially killed off the show. For all our loyal viewers, I'd like to say thanks for the support, and positive feedback and thanks for all the letters. Many people have expressed interest in getting Carpocalypse on Speed TV. I've emailed them as well as others, but feel free to drop them a line and tell them you want Carpocalypse. Rather it be reruns of Season 1 and 2, it might draw enough buzz to get a season 3 going. http://www.speedtv.com/feedback/
PLEASE TAKE OUR NEW SEASON ll SURVEY AND CHECK OUT THE RESULTS
ALSO CHECK OUT OUR NEW CHAT BOARD IT'S BRAND NEW WITH NEW FORUMS AND TOPICS READY FOR YOUR INPUT.
GREAT NEWS FOLKS, CARPOCALYPSE SEASON 2 IS NOW AVAILABLE FOR DOWN LOAD AT i-TUNES. GET YOUR FAVORITE SHOW DOWNLOADED TO YOUR COMPUTER. OF COURSE YOU HAVE TO DOWNLOAD THE ITUNES PLAYER, BUT YOU CAN CATCH CARPOCALYPSE ANYTIME YOU WANT.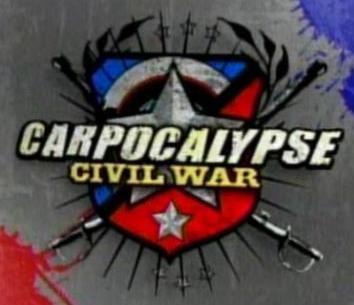 OK Folks the racing action is back for Season ll on Carpocalypse: Civil War. 10 episodes of some adrenaline pumping hardcore racing action. Just click on the links for "SEASON ll" and you can see what's going on next week, current scores and read driver profiles. You can also check out some information from the first season as well.
ATTENTION: The show is officially over. It started with June 2nd and with Numerous time changes and viewing disruptions it has finally run it's course. The final 2 episodes aired August 6th 2006. It seemed Spike TV really wanted this show to fail as their lack of promotion, and poor scheduling choices show. Lets show the SpikeTV execs why season 1 was one of their highest rated original shows and spread the word to get Carpocalypse back on air.

Get Ready for Season II folks, the Battle of the North and South. Who will take it this time, or is history doomed to repeat itself? It's all new with some new faces and some old ones that only their mother could love. Season II packs in 10 new explosive episodes where North and South Teams compete and challenge on their home turf. With 5 episodes in Florida, and 5 episodes in New York, this will silence the squabble of a home court advantage The races were tough, and the days were long but we managed to get it all on tape for your enjoyment. There's even talk of a DVD and perhaps a deleted scenes DVD which I'm sure could get you rolling on the floor. We did some of our favorite races from Season 1 and then added an entire new meaning to the term "Crash-A-Rama" with some of the new races. Many races ended up with some bonus team "Derby Time" afterwards as tempers flared and attitudes clashed. All the aggression is controlled by the new points and money system to reward the team and individual driver, so it's an all out war, a CAR WAR. So keep checking back, and I'll keep you posted with information and some new pictures. Check out this link to SpikeTV.com to check out Spike TVs limited involvement in promoting this awesome show
<![if !supportEmptyParas]> <![endif]>
CARPOCALYPSE: THE LOST COMMERCIAL

SpikeTV Promo - Watch more Funny Videos
The Long lost Carpocalypse Commercial. Has nothing to do about the show, but... at least it's a commercial. Wonder if Spike knows what that is.
OK Folks, I did some surfing and found a long lost commercial that was made for Spike TV. I guess they don't even know what their own show was about. It never aired, and was just hung out to dry, but I'll post it for your Amusement. It's kind of funny, but really has nothing to do with the show. You make up your own mind about it. Enjoy
Carpocalypse, the show that focuses on the daily drama of how a motley crew of crash addicted racers join together to compete in some of the craziest races ever caught on tape. The premise of the show began with the popularity of the local Crash-A-Rama series in Orlando Florida, and the filming of the "Test Drive: Eve of Destruction" video game by Atari. (Available on Play Station and X-Box) It all starts out with a challenge given at Orlando Speed World. Twelve Extreme racers must accept the challenge with the "very" limited budget, and build up their race vehicle before the 4 day deadline to "Race Day". These First Season (6 episodes) were filmed as a pilot in 2004, which has grown so much in popularity as one of Spikes highest, rated shows, which has taken off for an even crazier season 2 to begin currently airing. Some of the Extreme challenges presented are the Mini Van Reverse race, "Chain" School bus figure 8 race (with 2 busses chained together), Camper trailer race, Boat trailer race, Flagpole race, Blind Fold race, Car Soccer, Automotive Roller Derby, Ambulance chain race, and an Appliance race. All of the events were spectacular and many not performed anywhere else in the world. Carpocalypse digs down into the drama of everyday people and racers to show what goes on before a race. It shows the camaraderie, the cheaters, the dirty driving, the spitefulness, the teamwork, the coming together of some great minds to create some of the most insane racing vehicles imaginable. This show is not for the faint of heart, however it has screaming, yelling, bleeding, burning flesh, and the occasional bad word. But the one thing this show will never lack is a dull moment. From the onset of the challenge to the busting out of windows, you will be riveted to your seat watching the pulse pounding racing that is "Carpocalypse". So tell your friends, tell your significant other, and even tell your enemies to get ready for one of the greatest hours of racing television.

CHECK BACK OFTEN, NEW UPDATES, PAGES, AND VIDEOS WILL BE ADDED DAILY
---

CHECK BACK OFTEN, NEW UPDATES, PAGES, AND VIDEOS WILL BE ADDED DAILY
DJ BenJammins Mobile Entertainment
Copyright © 2006 [DJ BenJammins Mobile Entertainment]. All rights reserved.
Revised: 05/24/09. www.djbenjammin.com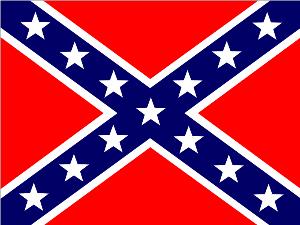 Do you really love this show?
Do you hate what SpikeTV has done to it?
Email Spike and tell them that you want CARPOCALYPSE back on primetime, or at least more than once a week. Tell them you gotta have it!! Just click on the feedback link below and let Spike know how much they screwed up.